St. Bridget of Ireland
Welcome to Saint Bridget of Ireland Parish!
Saint Bridget of Ireland Church is pleased to be able to offer public worship again.
The parish is taking precautions per the CDC and Governor Lamont's recommendations regarding public gatherings, as well as our own precautions we feel are prudent under the circumstances. We look forward to welcoming you and your family back to mass, but please understand there are risks involved in attending a public worship in a pandemic despite all of the precautions taken by the parish and the diocese.
We ask your cooperation with all of the directives that have been put in place for your safety and the safety of our clergy and your fellow worshipers.
Seating will be limited and reservation will be required to attend Week end Masses. Please click the link below to reserve a place to attend the Mass of your choice.No reservation required for daily Mass.
We are communicating with our parishioners via Flocknote, if you are not receiving them please call or email the parish office: 203 324-2910, parish.office@stbridgetofireland.com
Check out our new Facebook page: Saint Bridget Stamford
We believe that every person who comes here is a special gift sent by God. We are eager to know you and excited to share the marvelous ways God is working in our church. Your prayers, your presence, and your talents are most welcome.

Our Church is on street level and easily accessible for the elderly or handicapped.

Mission Statement of St. Bridget of Ireland

We the Parish of Saint Bridget of Ireland, united in God's family through our Catholic tradition, gather to bear witness to the teaching of Jesus Christ and share in His eternal mission. We come together for communal worship, education in faith, spiritual growth and fellowship. Inspired by the Holy Spirit, we reach out as Christ's hands in the world to spread God's love, healing and forgiveness. We are committed to our tradition of hospitality, unity and love. We invite all to use their time, talent and treasure to promote and preserve the Holy Catholic Church and our parish community.







We are immensely grateful for your support last year to the Diocese of Bridgeport's 2020Annual Catholic Appeal. What a challenging year it was and thanks to the generosity of so many we were able to serve thousands of Fairfield County individuals and families through our ministries and programs. Catholic Charities alone served over 1.2 million meals since the pandemic began.
Now we are in the midst of the 2021, Annual Catholic Appeal and how your support assists the ministries and programs our parishes cannot provide to the community on their own. We cannot do it without you and we are immensely grateful for your support of works of Faith and Ministry; Education and Catechesis; and Charity and Pastoral Services the Appeal provides to all people in the Diocese of Bridgeport
Regular Mass Schedule

Monday, Wednesday & Thursday:
7:00AM
Tuesday, Friday & Saturday:
8:00 AM
Saturday Vigil Mass:
4:00 PM
Sunday Masses:
8:30 AM & 11:00 AM
Mass sign up link: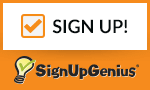 Upcoming Events
Listen to this week's Sunday Readings
Click the picture above to read the 2020 Safe Enviroment Handbook for the Diocese of Bridgeport